Course details
"2" Do not forget to reserve the second party! 7 dishes + 120 minutes all you can drink All-inclusive 20: 30 or later Limited plan for the second party 2980 yen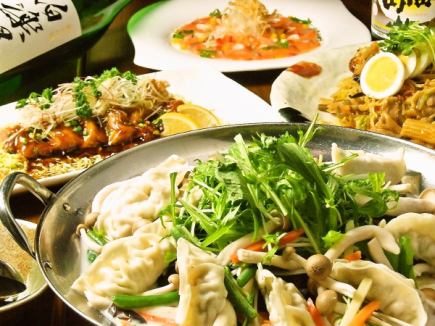 By using a coupon2980 yen
All-you-can-drink available

All you can drink 120 minutes Last order 30 minutes before your seat 2 hour system
Reservation deadline

Until 23 o'clock on the desired shopping day
Available days for reservation

Monday - Sunday - Public holidays - Holidays
Very affordable course limited from 21 o'clock.Volume and satisfaction enough to be used at the 1st meeting.
Course menu
20: 30 or later Limited Secondary Association Plan
A course of cooking enhancement which is optimal for a little hungry ....
All-you-can-drink is 2 hours securely.
Even if you use it at the 1st meeting, it is enough volume.
Please also use for the first session from late time.
Cooking 7 items 120 minutes Drinking attachment 2980 yen
■ Soy milk water dumpling pot
■ Fresh fish carpaccio salad tailoring
■ scented edamame
Grilled broiled chicken ■
■ Pickled yam at pickled soy sauce
■ French fries
■ Ramen noodles in a pot
There are cases when menu change by purchase etc.
※ Depending on the reservation status, we will accept consultation of time.Please do not hesitate to consult us.
All-you-can-drink menu
·draft beer
· Draft beer (Sapporo barrel raw black label)
·sour
· White peach grated sour / pear grated sour / summer makan sour / shower trees sour / lemon sour / lime sour / freshly squeezed orange / freshly squeezed grapefruit / calp sour / oolong hi / green tea high
· High ball (horn)
· Horn Angle High Ball / Cork High Ball / Ginger High Ball / White Peach High Ball / Pear High Ball / Kiwi High Ball / Summer Making High Ball / Yuzu Honey High Ball
· Japanese sake · plum wine
· Shuzen <Ichinose (Miyagi)> · Cold Sake <Tamaki Nichimi (Miyagi)>
· Shochu
· Korean Shochu Kagami moon / wheat yakaichi / ladder angel's ladder (oolong tea split, water split, hot water split, raw lemon, Umeboshi,)
·House wine
·Red and white
·whiskey
· Suntory angle (water split · lock)
·Plum wine
· Plum wine (rock · water split · hot water split · soda cracker)
·Cocktail
· Gin tonic / Moscow pure / Reggae punch / Screwdriver / Bulldog / Samurai / Cassis oolong / Cassis orange / Kalua milk / Cassis milk / Peach milk · · · Other
·Soft drink
Oolong tea / green tea / cola / gingeraeal / orange juice / grapefruit juice / Calpis
2019/01/06 update